Fort Worth is beloved by many thanks to its rich culture, history, and tradition. In fact, it has been nicknamed "Cowtown" which refers to the city's cattle-ranching roots.
All you have to do is take a stroll through the historic Stockyards to see these remnants of the past. Modern Western charm throughout the city, including Fort Worth wedding venues.
Regardless of your personal style, there is sure to be a venue to accommodate this, whether it is a whimsical wedding or a garden wedding.
Here, you can opt for a venue where the decorations and architecture speak for themselves or even choose a raw space where you can let your personality shine through.
With this in mind, this guide will explore all the best wedding venues in Fort Worth that are sure to capture the magic of the moment.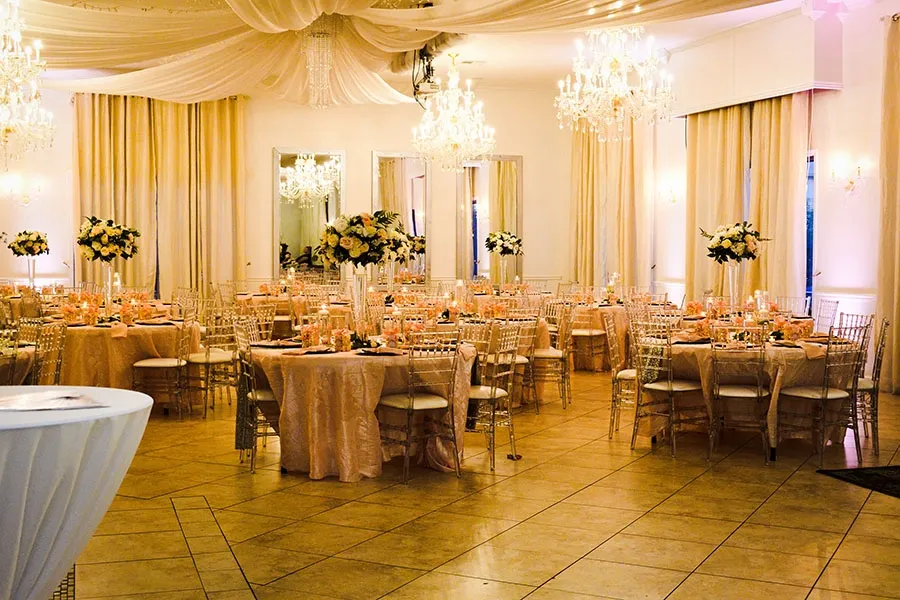 Located in the heart of DFW, you'll find this Italian-inspired reception and ceremony venue. It offers a fairy-tale type of elegance upon arrival at the stunning brick building.
Here, you'll find a dedicated stage area, as well as 11 sparkling chandeliers which combine to make a spectacular atmosphere.
You can trust that the experienced staff will provide you with a personalized wedding experience you will never forget.
With this venue, you can rent tables, chairs, linens, and display easels. Plus, there is even a bride and groom dressing room, and BYOB.
You can choose to purchase patio dinner catering, as well as other add-ons including a royal wedding sofa, mood lighting, drapery, and a fun photo booth.
After taking professional wedding photos for 30 years, this family-operated and owned wedding venue opened in 2012 to offer its knowledge and expertise. 
With over 100 sprawling acres, The Orchard Event Venue & Retreat provides couples and guests the opportunity to experience an unforgettable wedding thanks to the gorgeous backdrop of their pecan orchard.
There are multiple sites on the venue suitable for rehearsal ceremonies, dinner, and/or receptions, this includes the Plaza, Reception Hall, The Pergola, and The Pecan Room.
They also offer on-site lodging thanks to their six-bedroom lodge with a pool, 15 cabins, and a fire pit and games. If you're looking for an unforgettable day, you need to check it out!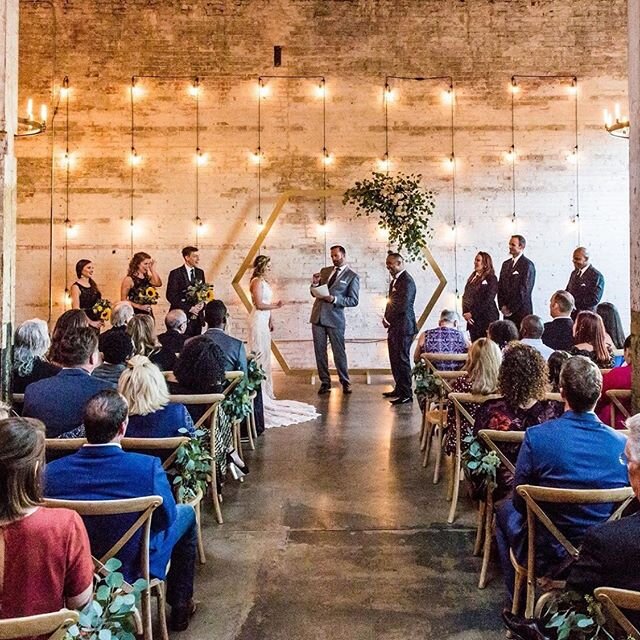 If you're looking for a diamond-in-the-rough type wedding venue, then look no further than Brake & Clutch Warehouse.
It can be found two miles from Downtown Dallas. In the 1930s, it started out as an industrial werewolf before closing down in the '80s.
In 2017, the warehouse had been given a second life as an incredible event space with a rustic, chip, and "hip" vibe.
Spacious, warm, and open, the wedding venue offers two spacious event rooms which can both be custom-designed.
Likewise, you can also choose to plan your cocktail hour, ceremony, and reception all in one place. There is also an outdoor patio that is perfect for couples who enjoy a rustic touch.
In addition to this, Brake & Clutch offers extra features including farm tables, round tables, wine barrels, cross-back chairs, and satellite bars.
One of the best aspects of Brake & Clutches event space is that it is entirely family-owned. As a result, you'll find incomparable attention to detail and pride by its owners and staff.
In fact, all the staff at Baker & Clutch are committed to making every wedding hosted at the venue one the bride and groom will remember and treasure forever.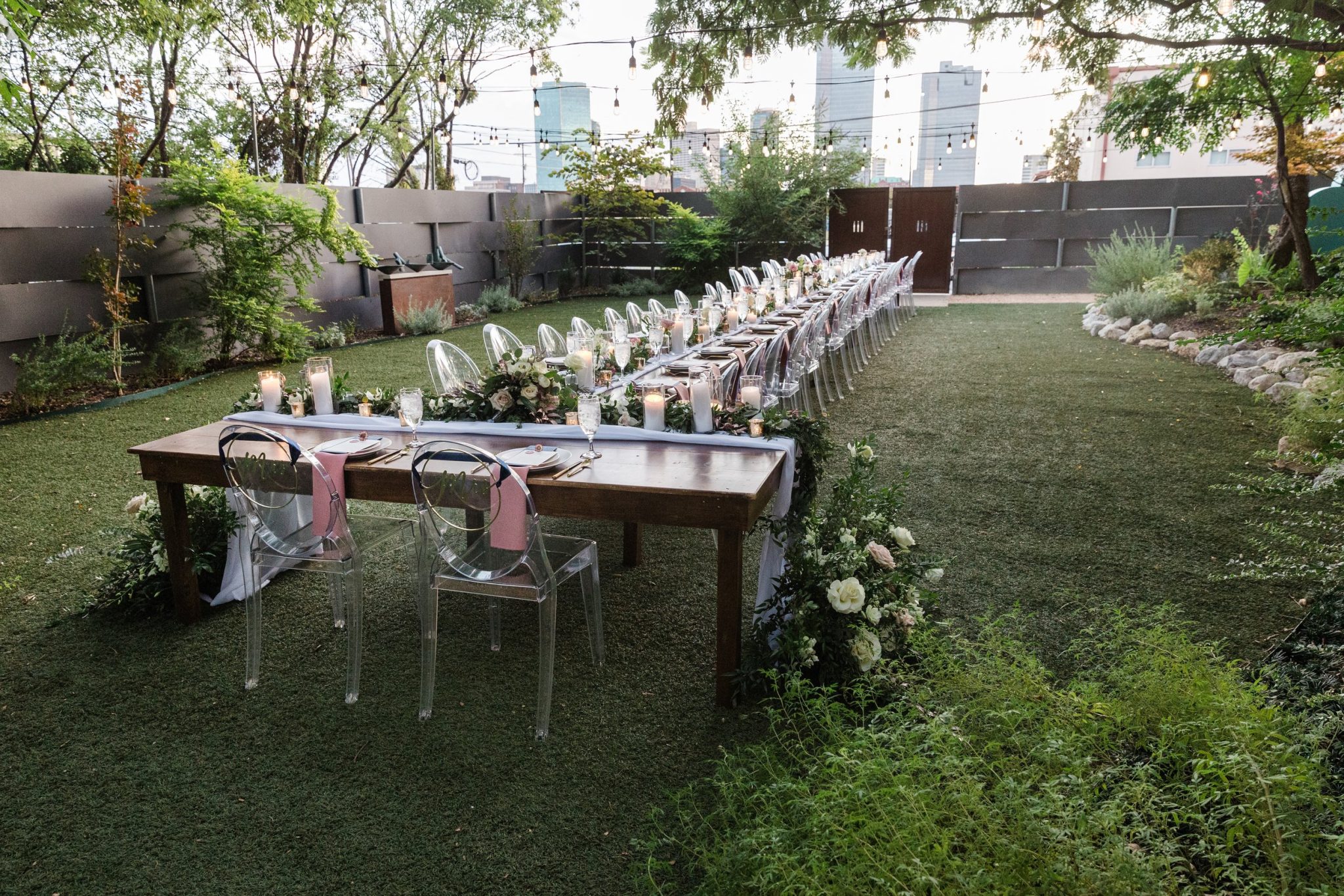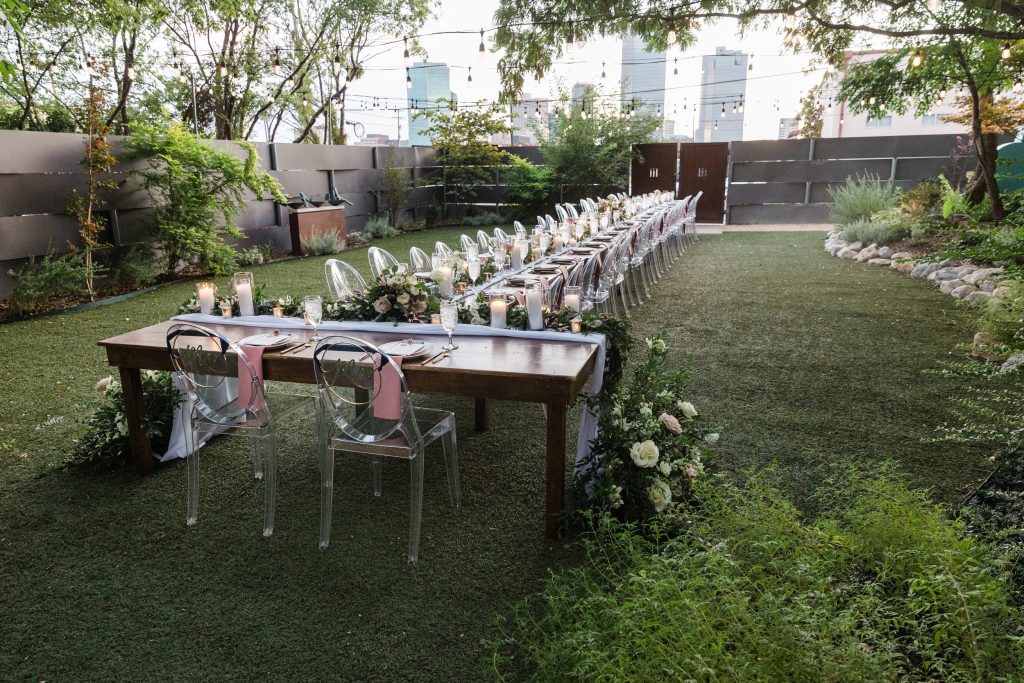 If you're looking for a trendy wedding venue in Fort Worth, Texas, then look no further than Artspace 111 Gallery and Gardens.
This fashionable and elegant ceremony site offers the option for both indoor and outdoor settings.
For instance, a magical sculpture garden, an indoor gallery with all-white walls and tons of light, and a courtyard and patio with lots of natural sunlight.
The wedding venue itself can accommodate over 200 guests with many different accommodation options within a short distance of the venue.
For a modern yet warm space, you can't go wrong with this stunning wedding venue with a gorgeous backdrop that is perfect for your special day.
Plus, they even offer delicious catering from their preferred vendor, Wolfgang Puck Catering.
Experience how this delightful wedding venue manages to combine modern and traditional elements together for yourself.
The best part? This impressive venue can host up to 600 guests.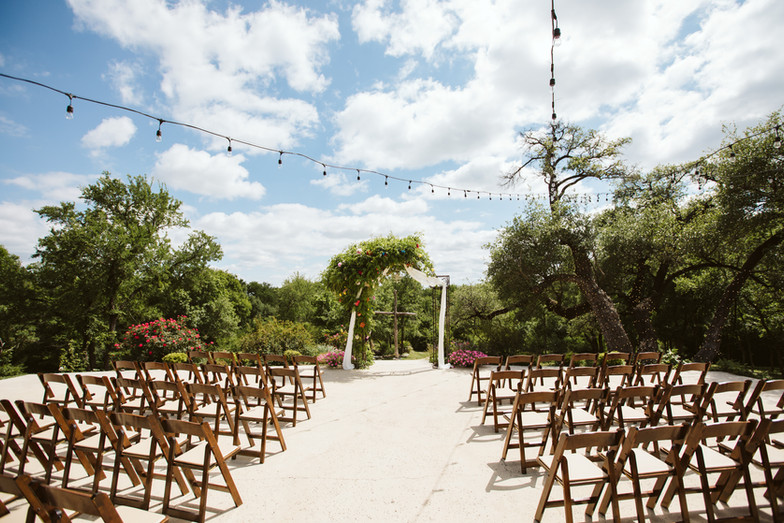 Located only minutes away from downtown Fort Worth is this tranquil slice of history surrounded by enchanting gardens and mature trees.
Dating all the way back to 1932, the main house has since been updated to its former glory with charming upstairs/ downstairs fireplaces and a stunning brick exterior.
In the Roosevelt room, you'll find antique chairs and tables, while in the parlor room, you'll find stunning vintage sofas.
Here, the pergola-covered patio is the perfect place for mingling during cocktail hour after tying the knot beneath the iron arch.
As part of your rental, you're provided with farm tables, 150 chairs, and use of the whole venue. This includes the groom's lounge, bridal suite, built-in bar, and prep kitchen.
You're able to bring your own vendors who the onsite manager will help facilitate since their staff performs furniture breakdown and setup.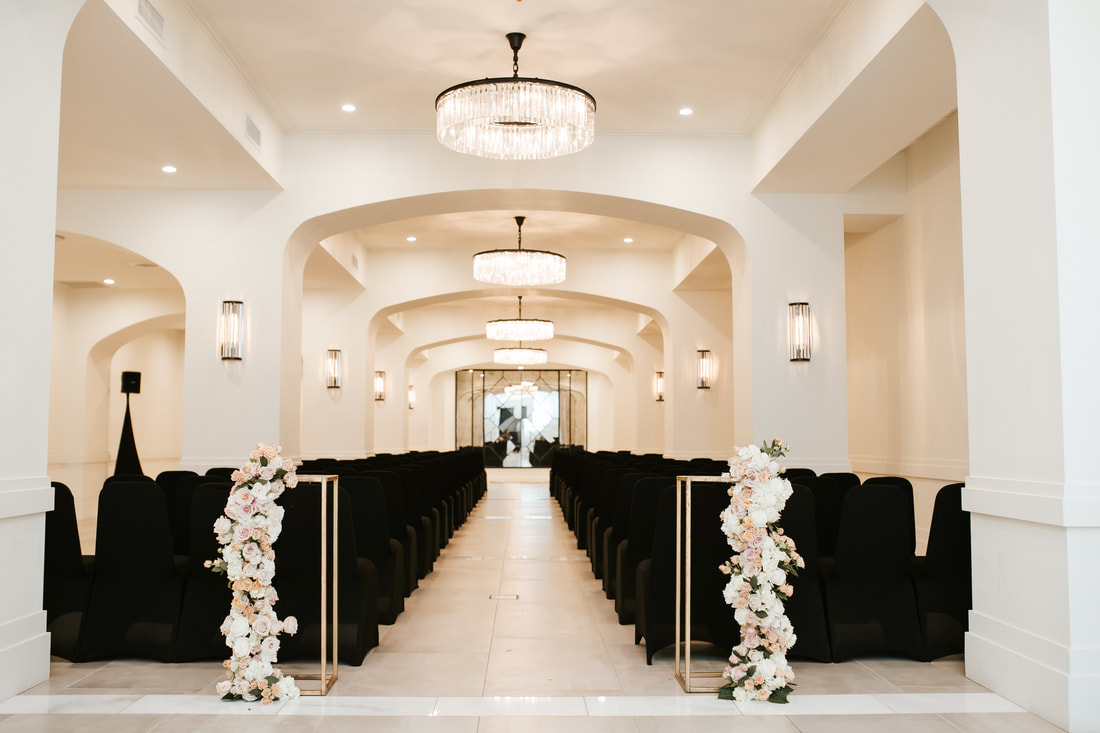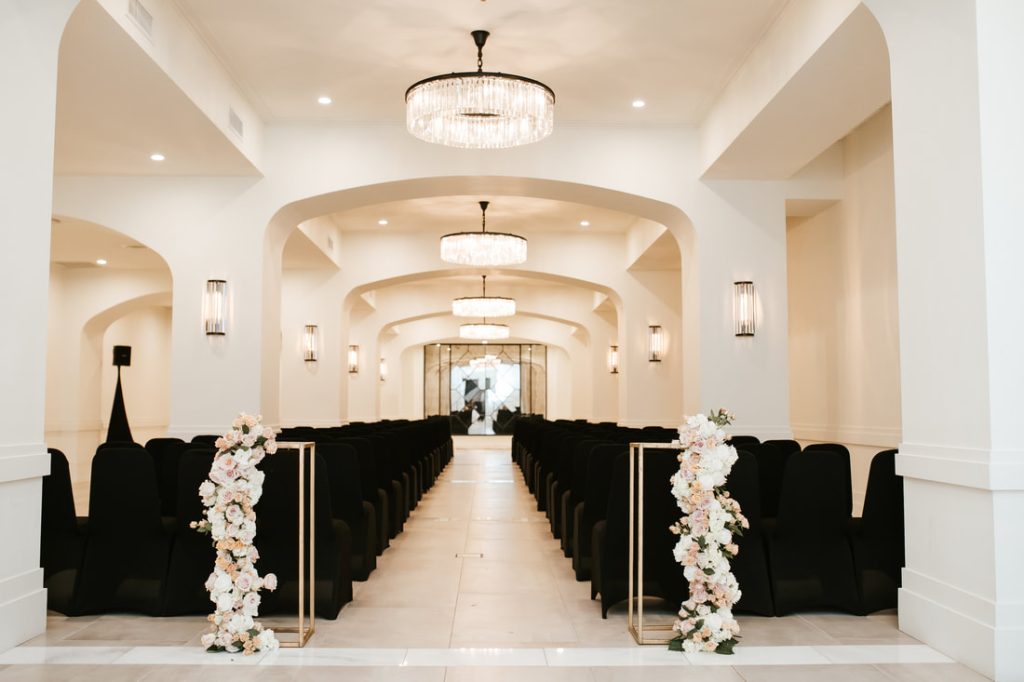 Located in downtown Dallas, you'll find The Carlisle Room – it is the perfect setting for a fun-loving couple who are looking for a wedding with a big-city vibe.
It can be found in the renovated Lone Star Gas building which was built in 1931. It features the perfect blend of Art Deco style, modern luxury, and historic charm.
Here, you'll find terrazzo floors, marble walls, and impressive 17-foot ceilings. This all comes together to create an awe-inspiring venue that has a capacity of up to 200 people.
In fact, any wedding held at this venue is sure to be one that is remembered forever!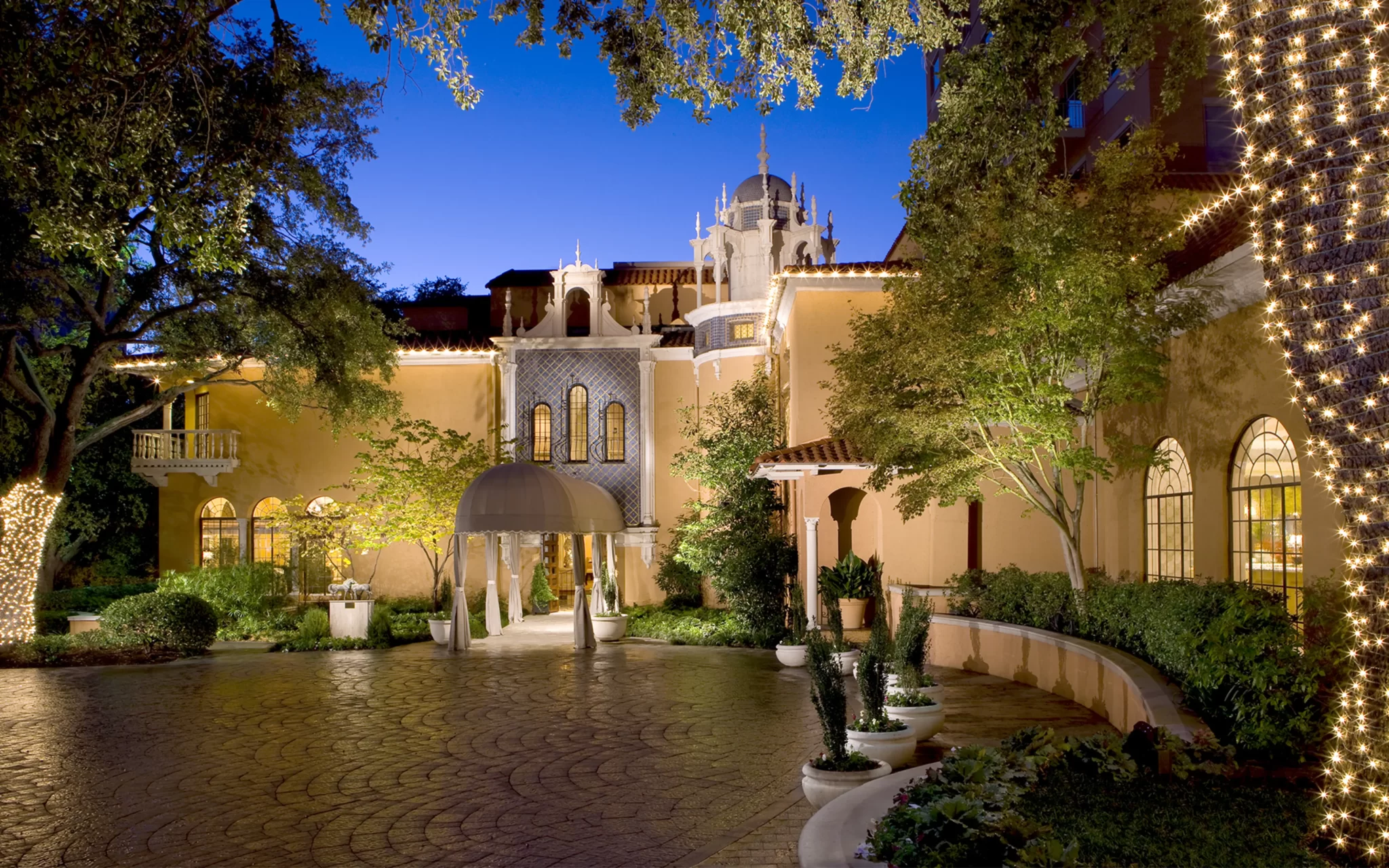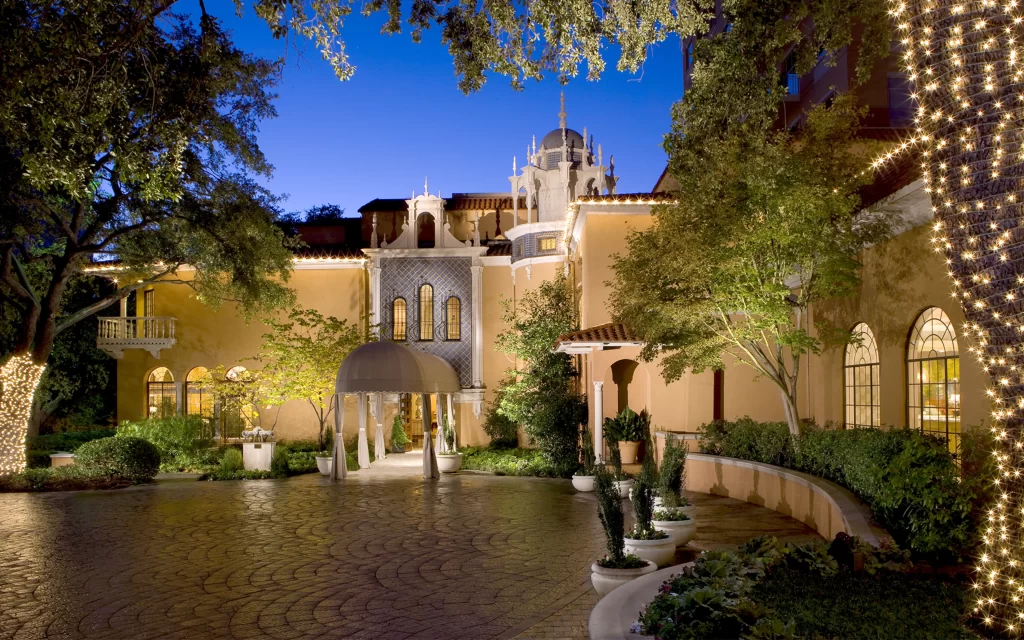 If you're looking for an iconic Dallas wedding venue, then you can't go wrong with Rosewood Mansion on Turtle Creek.
In fact, Dallas natives grow up dreaming about hosting their wedding at a venue like this.
The "Mansion", which it is often referred to as, is actually a boutique-style hotel with opulent and elegant details.
There are tons of spaces available here from small to large, therefore, it can make for a great venue if you're looking for a small and intimate ceremony.
Plus, you don't want to miss their fabulous luncheon wedding at Rosewood Mansion which is planned by the Partridge & Pear team.
The golden peach and warm exterior features Spanish colonial-inspired turrets and roofs – evoking a sense of European splendor and Southern charm that certainly makes for an impressive backdrop for a reception or wedding pictures.
It is loved by couples for the venue's historic and classic spaces, including the Pavilion Ballroom and the Promenade.
The Promenade itself is particularly breathtaking with chic chandeliers and Palladian windows.
The venue features a palatial private estate and grounds that are intended for couples who want to make the most out of the expansive lawns or the indoor ceremony rooms.
You can even stay in the penthouse for a lavish stay. Plus, there is a European-style ballroom that makes for a dreamy reception room – suitable for 130 guests.
For larger weddings, you can make the most of the outdoor tented reception on the lawn.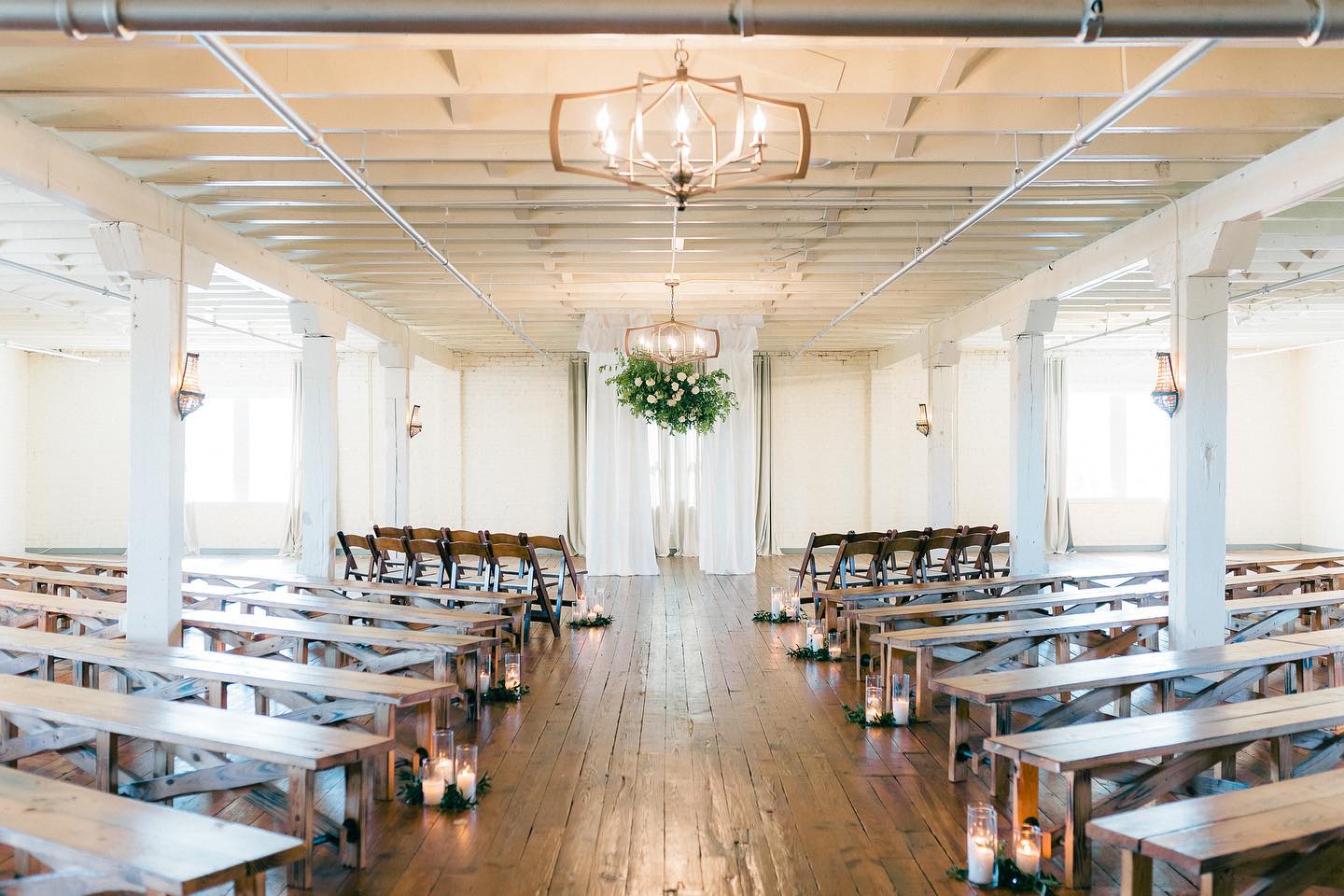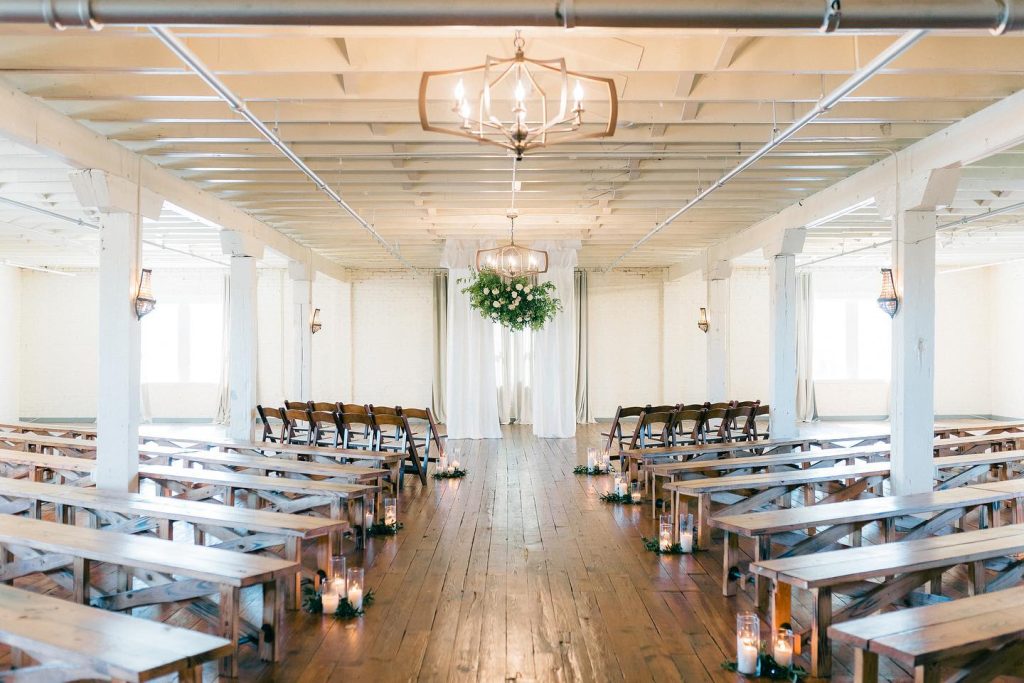 For a premier event venue, you can't go wrong with BRK, located in Fort Worth, Texas.
The venue itself offers an industrial vibe with tons of modern detail speckled throughout. The best part? You can completely customize the venue to suit your requirements and taste.
Thanks to the wooden flooring and the exposed brick walls, the venue offers a modern yet industrial backdrop to your wedding.
With more than 11,000 square feet of space, the venue can easily accommodate up to 300 guests – it is one of the most beautiful venues in the entire state!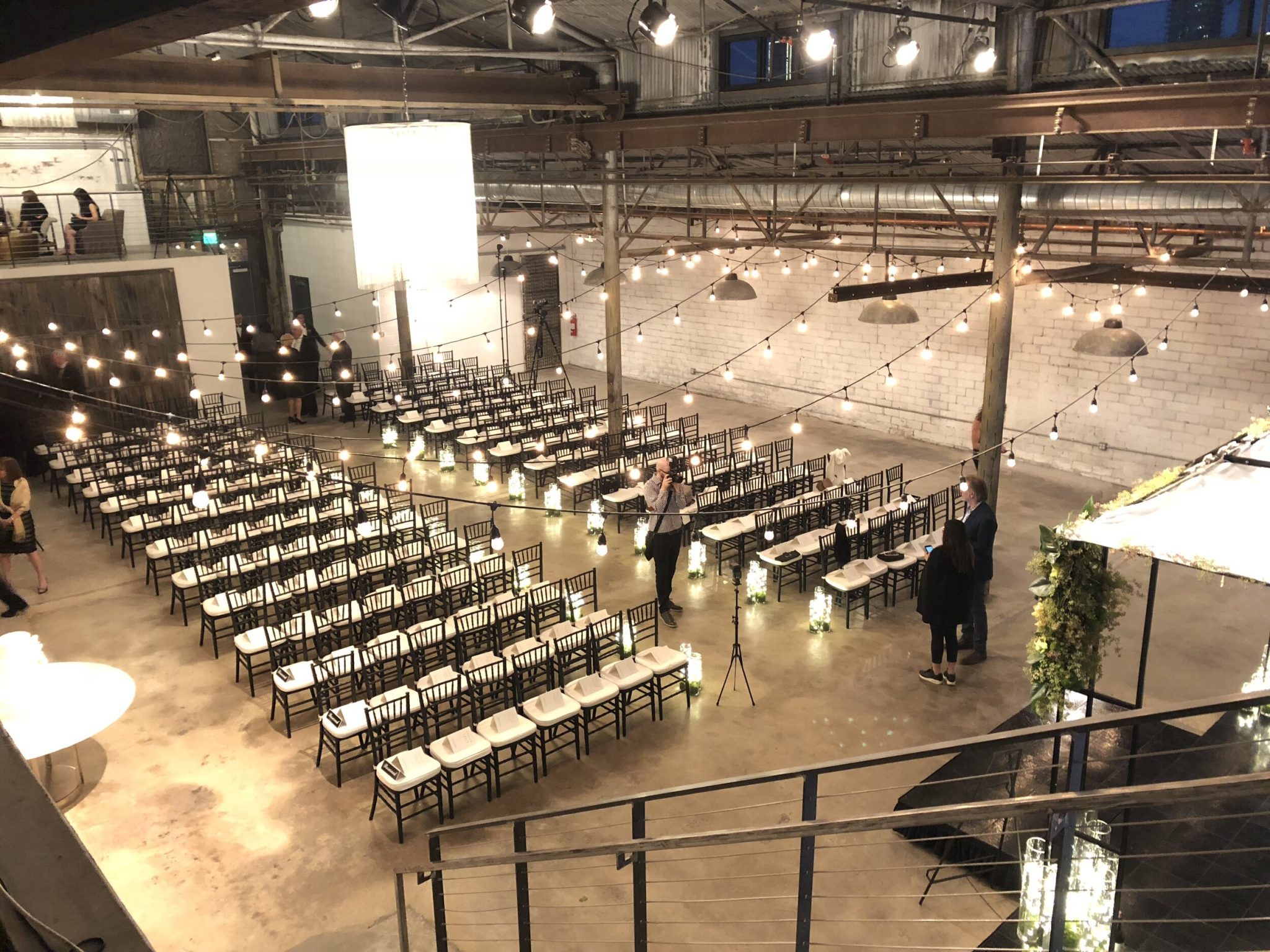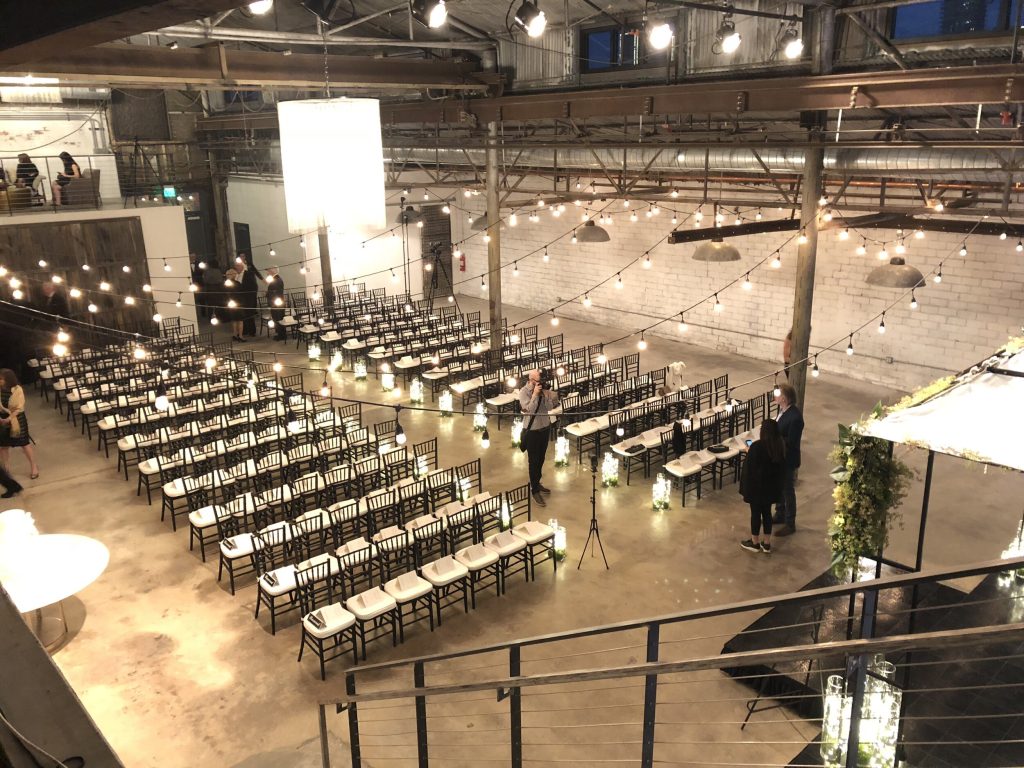 As a 1920s warehouse, the venue has been restored and completely transformed into a space for special events.
It is a truly unique venue that combines both industrial styles with luxury.
Here, you're two different levels of space, as well as show-stopping chandeliers, high ceilings, and enough seating to accommodate over 300 guests.
The outdoor garden patio and courtyard are surrounded by planters and trees to bring a touch of nature to the warm brick facade.
Final Thoughts
If you're looking for a special wedding venue in Fort Worth, Texas, to celebrate your special day, then you're in the right place.
Thanks to its immense history and impressive landscapes, Fort Worth is one of the best destinations to get married.
Hopefully, this guide has informed you about the best Fort Worth wedding venues for some special memories.